Introducing the Eastwood Fit App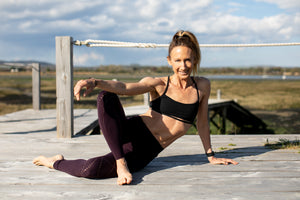 Today, I'm very excited share news of a project I've been working on.
It's been years in the making, and I'm so excited for this huge leap I'm about to take in my journey as a trainer and fitness founder…
This summer, I'll be launching the EASTWOOD FIT app!
For those of you who know me well, you'll understand that as a self-confessed technophobe, this is quite daunting. But, just over two years after I launched my virtual Zoom and on-demand Eastwood Movement Method sessions, it's time to take the next step into the future.
Signing up to the Eastwood Fit app, which will also seamlessly integrate into my website, will make it easier for you, my committed clients, to access my workouts anywhere and everywhere. It's because of my customers' loyalty and dedication that I've spent the time building this new platform, which will allow you to access Eastwood Movement Method classes in an easier, more convenient, and more economical way.
The Eastwood Fit app will be a subscription-based membership, which you can access via the app-store or through my website (so, don't worry if you don't want to download an app, the website will have all the details too). It will be made up of my huge library of zoom-recorded workouts and some brand-new content. There will be a mixture of shorter workouts, beginner sessions, cool-down sessions and of course, my big five signature moves will feature throughout. The workout categories will include:
HIIT POWER
WORKSHOPS
TECHNIQUE
STRETCH / RECOVER videos and sequences
Not only that, but I'll be bringing LIVE workouts back too! I will go LIVE through the platform to host dedicated sessions throughout the year. These will change dependent on the season or what you, my customers would like to see. It could be a classic HIIT session, focused on building lean muscle and a strong form. Or it may be a recovery-based stretch session, which looks at mobility and posture. It may even be a Q&A, where you'll get to ask me your burning health and fitness questions.
Having the Eastwood Fit app and web portal will mean that you will no longer have to purchase individual workouts directly from my website. The good news is, with this new Eastwood Fit membership, all you have is a once-a-month purchase of £25, on a rolling contract. 
The app will have some incredible features, including challenges and reminders to keep movement in your every day. I'll also be able to provide you with advice and motivation throughout your Eastwood Fit journey, making it even easier to take me with you anywhere, and do a huge variety of workouts. The app's on-demand library will also be available via the website, allowing you to use your app login to access all my workouts on the web.
So, if you're as excited as I am about this new (and far simpler) way of working out regularly using the Eastwood Movement Method, then join me as we take this next step.
To stay in the know about when the app is launching plus other news and offers, simply add your name and email to this list [Click Here].
Monique